Frequently Asked Questions
I don't have an E-Track record. Am I able to attend any upcoming virtual instructor led trainings?
---
The OCWTP allows guests to attend OCWTP events on a space available basis. Priority registration is given to our primary training populations (public child welfare caseworkers and supervisors, public agency foster caregivers, adoption assessors, and adoptive parents). If the class is not full a guest may register. To determine if space is avaliable contact one of our eight Regional Training Centers.
---
I'm a public agency foster caregiver. Where can I find eLearning courses to meet my ongoing training hour requirement?
---
Watch this 41-second video on how to search specifically for foster caregiver training that is available through E-Track. Be sure to read the course descriptions, as most contain information on how to launch the course and obtain credit in E-Track. If you do not find that information in the course description, you'll click the green sessions button on the right side to either enroll/launch the course directly from E-Track or enroll in an instructor-led virtual classroom that is held on a specific date.
You also have access to training through the Foster Parent College, which is accessed outside of E-Track.
---
I'm trying to enroll in an online self-directed course in E-Track, but it is not allowing me to do so.
---
For online training, it's extremely important to read the learning overviews/descriptions in E-Track, as the overview often contains a link to instructions on how to enroll, how to take the course, and how to receive credit. For example, in the case of the course Adolescent Trauma and Substance Abuse.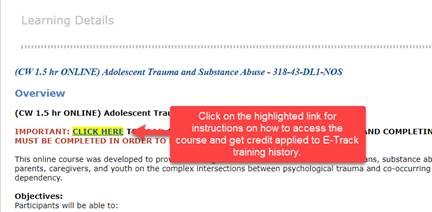 ---
If there is a waiting list for the session I want to attend, will E-Track still allow me to register in case room becomes available?
---
Yes, you should register. You will be added to the waitlist and if for some reason that session stays full, you will receive a notification when a new session is created.
---
I just completed my session. When can I access my certificate in E-Track?
---
You have 7 days to complete your survey. Your certificate will be available in E-Track on or before day 10.
---
Can I join a self-directed distance learning class through E-Track for credit if I am from a private agency?
---
We are not able to provide training credit to guests for self-directed courses at this time.
---
What type of device should I use when attending a training
---
When possible, we recommend using a desktop or laptop for the best user experience. We have had some issues with tablets and other mobile devices.
---
---